The Team
Beverley Gregson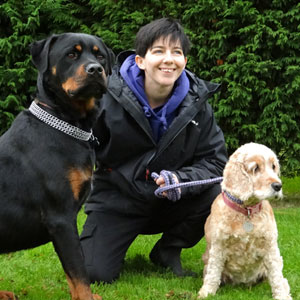 I'm the general manager here at Rose Tree. I completed my Hydrotherapy course in 2011 and have been helping with dogs rehabilitation at Rose Tree since. Seeing the improvement in the dogs has to be the most rewarding part of my role.
I've worked here for 14 years. I absolutely love it and I couldn't see myself working anywhere else. We treat every animal as if it's our own. It is a joy coming to work and looking after all the lovely dogs and cats.
Ellie Cooke
Ellie runs our Rehabilitation centre here at Rose Tree, providing both Hydrotherapy & Physiotherapy services. Her passion for working with animals began at a young age, volunteering in numerous farms, stables and sanctuaries around the world with the aim to work in the veterinary profession.
Following completion of her BSci (Hons) in Natural Sciences at the University of Nottingham in 2015, Ellie followed her dream to help animals recover from injury, disease or surgery. This led her to completing her Level 3 Cert in Canine Hydrotherapy with the additional required modules for Under Water Treadmill Therapy. Upon qualifying, Ellie set up her own business offering her services and has been running Hydrotherapy clinics around the North West including here at Rose Tree.
Alongside this Ellie studied for her Advanced Certificate in Veterinary Physiotherapy, for which she is now fully qualified and able to offer her services here at Rose Tree. This means that your dogs rehabilitation care can all be completed on site, utilising an array of therapeutic techniques including massage and laser therapy to ensure your dog is kept in top condition.
In her spare time, Ellie is kept busy with her rescue dog Pippa.
Lily Nye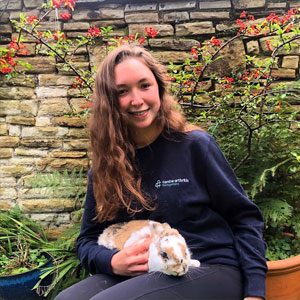 I have always loved animals, forever wanting to say hi to every horse, or the sheep in the field whilst out on a walk, or point out every single dog that we pass. Pet ownership began with small furries and eventually to my first loan-horse. Over the years, I have enjoyed volunteering at different animal sanctuaries in the UK and an elephant rescue sanctuary in Sri Lanka.
I soon realised my passion for rehabilitation of animals following injury or illness. This led me to undertake a 4 year undergraduate degree in Veterinary Physiotherapy at Harper Adams University. After qualifying with a First Class Honours, I enrolled onto a level 3 certificate in Canine Hydrotherapy. I was then fortunate enough to join Ellie here at Rose Tree, and I couldn't have wished for a more enriching start to my dream career. I am loving meeting all the fabulous clients and dogs and working towards making positive differences for those entering through the clinic doors.
While I do not own a dog at the moment, I currently have my beloved rescue rabbit Basil, who has become a firm member of the family over the last 8 years. In my spare time, you will find me out on a walk or a run in the open countryside, and I enjoy travelling and spending time with family, friends and Basil (of course he gets a regular massage!).
Make a booking
at Rose Tree Farm
Get in touch with us today to book any of our facilities
for your pets or to have any questions answered