The Team
Beverley Gregson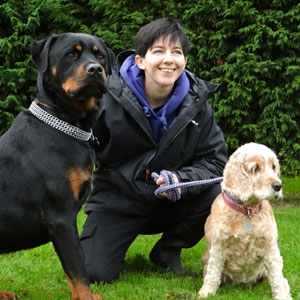 I'm the general manager here at Rose Tree. I completed my Hydrotherapy course in 2011 and have been helping with dogs rehabilitation at Rose Tree since. Seeing the improvement in the dogs has to be the most rewarding part of my role.
I've worked here for 14 years. I absolutely love it and I couldn't see myself working anywhere else. We treat every animal as if it's our own. It is a joy coming to work and looking after all the lovely dogs and cats.
Nicola Buckley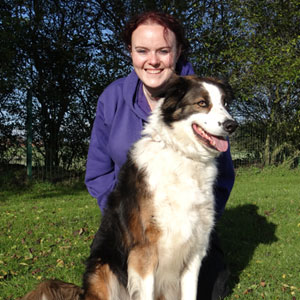 I've worked here at Rose Tree Farm for a little over 3 years, and I worked at a doggy rescue centre for 2 years previous to this.
It is such a pleasure to work in such a friendly environment filled with happy pooches and purring kitties. I pride myself on making our guests here feel as comfortable and loved as possible during their stay with us. Just like humans, I understand that no two dogs are the same and aim to make the stay of all our guests the best experience possible.
Here at Rose Tree we cater to the elderly as well as the young, the sickly as well as the boisterous and excitable. I have worked with many kinds of dogs over the years, and have spent time working with stray dogs, which put my Animal Behaviour degree to the test and I soon learnt so much more about canine behaviour.
We have a lovely combination of large and small breeds who board with us, and being a loving Rottweiler owner myself, I'm a big fan of the larger breeds.
For all you cat owners out there, never fear! Whilst growing up, my mum was the proud owner of 12 cats, so feel free to bring the whole tribe for a stay with us :)
Ellie Cooke
Ellie runs our Rehabilitation centre here at Rose Tree, providing both Hydrotherapy & Physiotherapy services. Her passion for working with animals began at a young age, volunteering in numerous farms, stables and sanctuaries around the world with the aim to work in the veterinary profession.
Following completion of her BSci (Hons) in Natural Sciences at the University of Nottingham in 2015, Ellie followed her dream to help animals recover from injury, disease or surgery. This led her to completing her Level 3 Cert in Canine Hydrotherapy with the additional required modules for Under Water Treadmill Therapy. Upon qualifying, Ellie set up her own business offering her services and has been running Hydrotherapy clinics around the North West including here at Rose Tree.
Alongside this Ellie studied for her Advanced Certificate in Veterinary Physiotherapy, for which she is now fully qualified and able to offer her services here at Rose Tree. This means that your dogs rehabilitation care can all be completed on site, utilising an array of therapeutic techniques including massage and laser therapy to ensure your dog is kept in top condition.
In her spare time, Ellie is kept busy with her rescue dog Pippa.
Sian Warburton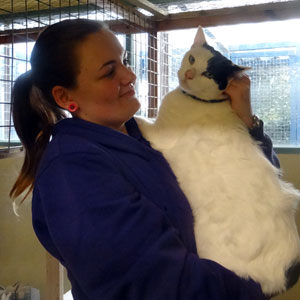 I've worked at Rose Tree Farm since early 2016 and I love my job! I have gained lots of experience with both dogs and cats since starting here and have learnt lots of new things that benefit the way I work.
I have a big passion for all things animal related and knew from a young age that I wanted to work with animals. I have a mastiff cross staff called Biscuit and a cat called Binky, they are both my absolute world!
When I am not working I spend most of my time with them, but any spare time I have I like to spend going to local music gigs and concerts.
Jenny Williams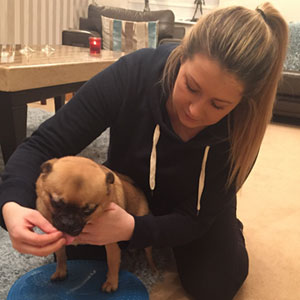 Jenny has under gone significant training in order to become qualified as a veterinary physiotherapist. After achieving a First Class Honours degree in Equine Therapy and Rehabilitation from Bishop Burton College, she then went on to complete the Advanced Certificate in veterinary physiotherapy through Canine and Equine Physiotherapy Training (CEPT), which is accredited at Level 7 by The University of Middlesex.
Upon graduating as a fully qualified veterinary physiotherapist, Jenny set up her own mixed practice business where she works alongside local veterinary practices to treat a wide range of neurological and orthopaedic disorders. Jenny is a full member of IRVAP and specialises in all aspects of canine rehabilitation including hydrotherapy.
Alongside working in industry as a Veterinary Physiotherapist, Jenny also works as a University Lecturer. There she is responsible for managing the veterinary physiotherapy students and teaching on a range of physiotherapy modules, covering both canine and equine, theory and practical.
In her spare time Jenny enjoys spending time with her pet Labrador Harvey and riding her horse Tigger.
Make a booking
at Rose Tree Farm
Get in touch with us today to book any of our facilities
for your pets or to have any questions answered